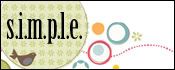 I've really enjoyed being apart of SIMPLE... it's a fun "job"! I get to contact companies and try out some products that I think my kids will like:) Recently I've been able to try out some products I LIKE... he hee!!


A couple of weeks ago I reviewed a pedometer from Walk4Life!!! I have really enjoyed tracking my steps daily. I saw clearly that I NEED to work out daily in order to get the recommended 10,000 steps...

I can proudly say that I did it yesterday!! I got 10,100+ steps!! And today I'm almost there, too:)


This week I am getting together another review... to be posted on Saturday AM!! It's from a company called SwitchFlops... so cool and CUTE!!


Check out SIMPLE when you can!!! Since I'm one of the SIMPLE Moms, I can't enter the giveaways... but YOU can:) We've got a giveaway right now for a CUTE wristlet from Borsa Bella and some Organic lotions from Natures Paradise:)