There are things I'd like to do...
Drive a few hours to meet up with a sweet friend this week
Go clothing shopping for

me

... kid-free
Spend the afternoon reading a book I've been wanting to finish
Really clean the house, declutter, clean windows.... serious stuff;)
But folks, that isn't the 'season of life' that I'm in right now!!
Sure, I get moments to chat on the phone or email friends. I can shop on the bargain racks on my weekly grocery run to Wally World. I can read for a few moments before I fall asleep at night, or sneak into the bathroom... LOL!! And even if I really cleaned.... it wouldn't look like it after a day or so with my crew:)
I really struggle with not letting my 'seasonal' limitations become frustrations.
I can get soo aggravated with myself, my kids, my husband and my "life" sometimes.
I was reading through this
amazing chart
again... I read over it often
(I printed it off the 1st time I read it and have a copy next to me at my desk)
!!!! How often am I discouraged and frustrated about trying to have it all... look good, kids well-behaved, time to myself and all the right boxes checked off because they are completed???
Yet my heart yearns to be the
"Abiding Mom"
!!! Who doesn't, right!! And as I read through that column, I see what her focus is...
it's being focused on the Lord - understanding her place in HIM
(aka - grace)
and then forming relationships with her family/kids that encourages them to focus on HIM
(aka - more grace)
, too!!
How I've missed
it
.
praying that this week....
I am focused on becoming more like Him,
I am forming relationships with my kids, not just doing school/activities with them,
and being
thankful
for this 'season' and all I GET to be apart of.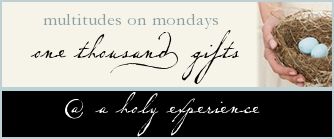 81. a week of lessons planned
82. a quiet weekend
83. gap-py, cute, little teeth
84. an abundance of girl clothes to hand down to a little sister who dresses herself
85. an encouraging mother-in-law willing to listen
86. challenging words to chew on and apply
87. listening to my son read
88. the first blossoms... reminder that spring is coming
89. giggling coming from outside
90. joyful screams when Daddy gets out there with them
91. homemade "safe for us" doughnuts;)

May the words of my mouth


and the meditation of my heart




be pleasing to you, O L

ord

, my rock and my redeemer.
Psalm 19:12-14