Thursday, September 29, 2011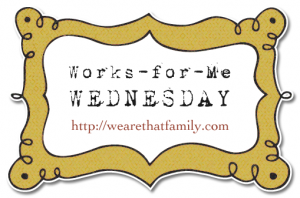 Hmmm, my schedule isn't working!! Our days look nothing like
the amazingly worked out plans I posted weeks ago
!!
I think it's because my plans were "goals" ... and they really didn't fit our routine!!
And while I had hoped Nate would LOVE some individual time playing with his awesome older siblings...
he had high hopes of "doing school", too :)
And so instead of playing with the older sibling assigned to play with him, he stuck with the kids schooling... stealing pencils, writing all over himself with markers, standing on the school table, trying to eat calendar magnets.... toddler antics galore!!
So we're tweaking.... after 4 weeks of fighting it... we tried something new:)
And so far, last week and this week, it has been working well:)
Schooling pretty much finished before lunch, kids learning, happy or napping toddler....
and a less frazzled mom!!
Since Anna is the 1st one usually ready to start school.... I start with her:) Makes sense! I can get all her core work (that needs my individual attention) done in that first hour while the others finish chores and play. And before they get wild, Anna and I are finished and ready to include everyone;)
One of my goals was to start teaching Nate to be quiet while we did a devotion or reading time. By having him settling down in his crib while we work on memory verses, prayer, Bible reading and reading from The Book of Virtues (on Friday).... he is content, listening quietly, CONTAINed ;) and learning to listening quietly:) I was amazed how quietly he usually listens.... it has been working well... just need the older ones to stay focused and still :/
Those were the two biggest changes;)
And it's been working wonderfully:)
It's funny how the coolest "plans" can be made, but the ones that usually work the best are the obvious ones that come out of the normal flow of our day;)
I should mention that I'm saving the other plans;) Seems like once Nate gets a little older to realize siblings WANT to read and play with him and he doesn't nap as long in the AM...
we'll have to go back to man-to-man defense with him;)
Also, totally submitting this to
You Capture
for the bright green PJs and ugly green wipe turned marker box;)
Posted by

Unknown
at 12:00 AM
4 comments


Wednesday, September 28, 2011
Nate brings Doggy everywhere.... but this was a first:)
A game of chase with Anna:)
And now they are both ready for a nap!
Nate's favorite part of Doggy are the tags!!
And that's the reason Nate carries him upside down soo much:)
More Wordless Wednesday at
NapTime MomTog
,
Posted by

Unknown
at 7:00 AM
6 comments


Tuesday, September 27, 2011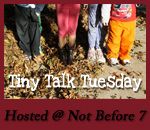 Last week I began working out.... again!!
I have just felt so weak and worn out recently! And the "post breastfeeding" pounds have started to creep back... who, am I kidding?? Those extra pounds are taking over my body... weighing me down and making me more self-conscience!!
I want to be a healthy, active Momma.... so I'm determined to sweat and work those pounds off...
by getting "my tail kicked" by Jillian Micheals while the kiddos nap/read in the afternoon! I've heard good things about Jillians Micheals 1st DVD and as I was about to purchase it, Ripped in 30 was getting attention!
Yikes, I should have gone back to my walking workout;) But I made it through and after a break this weekend to let my body heal... I've been back to working out this week;)
The funniest thing has been the kids' reactions to my working out....
Anna (7 yrs):
Momma, what are you doing?
[when she 1st found me working out!]
then minutes later...
Anna:
You're not doing it like they are???
(LOL!!)
then minutes after that...
Anna:
Are those muscles on those girls? You don't have anything like that?
WHat an encourager.... ha haha haa!!
*******************************************************************
And Chris snuck out of bed to draw a picture of me working out...
I love my eyebrows:)
Posted by

Unknown
at 7:00 AM
8 comments


Monday, September 26, 2011
Sunday Brian preached his last sermon at our church.
For 7 years (since August 2004) Brian has preached at our church Sunday mornings, Sunday nights and Wednesday mornings.
Truth be told I am glad for this day to have come...
not
because I'm glad he's done pastoring or that we'll eventually be finding a different church
(one closer to our new residence... wherever that might be... LOL!!
) In fact those two things I will miss the most!!! I know I'll be missing sitting under Brian's teaching! And I love our church members and definitely miss being with them
(when that time comes)
.
but because since Brian started working part-time and then full-time...
he's been soooo busy!! Too busy!
From leaving the house a little after 7:30 each morning, working until 2 (or now 4:30) at the college.
Coming home he went to his home office... to return calls, check on church members, prepare sermons, visit with deacons, hospital visits, event organization and set up. And work on the TWO classes (
last semester he taught 4 in one semester!!
) is teaching!
We'd usually see him emerge about 6:30-ish to catch the national news and eat dinner. Usually he was with us until the kids went to bed about 9... and then it was back to work!!
Weekends were the same... just getting everything done. Saturday didn't include any time at the college, although he usually has a book with him to keep up with his classes :(
In Brian's words "I have no weekend, no breaks" and he didn't! And that meant we didn't either... at least not with him :(
So his last sermon hopefully lets him have some downtime now... although his plate is still pretty full... working full-time at college, teaching one class at the school on week night, one online class and trying to find us a house!!
But
it is sad
to think that "this season" has come to an end! We have enjoyed our time at our church.
We came to this church as a young couple holding their one little babe in their arms.
LOL! ..... has our family changed in these 7 years!
We have often said that we have grown a TON from serving this church. Learning about pain and loss. Encouraging those struggling and giving generously. Growing in maturity, knowledge and love for others. And serving.... in a small church everyone does their part... big or small!
Brian's last Sunday sermon marks the end of his pastoral service to our church. But because we do not have a house picked out or ready for us, we are staying!! The church is being soo gracious by allowing us to stay in the parsonage a little longer while we make permanent housing arrangements!
We are soo thankful for their generosity!!
And excited to be able to stay, worship and serve with them now as regular church members!!
Funny though that they are just as happy to have us stay as we are happy to stay:)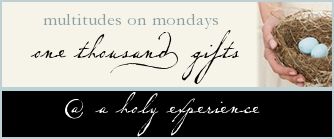 281. a delicious meal fixed in Brian's honor
282. church members happy to have us stay
283. tokens of gratitude
284. tears of joy and sadness
285. families attending church together
286. good memories
287. friends to share burdens
288. church family that "holds up" those struggling
289. wise men and women of the faith
290. a nursery volunteer;)... thanks Sue-sue... I really needed THAT!
291. boys room totally cleaned
292. answer to prayer for a family member's health scare
293. hearing children practice memory verses on their own
294. a new loved series for an emerging reader
295. possibilities
296. a gift of fall mums
Posted by

Unknown
at 2:49 PM
7 comments


Saturday, September 24, 2011
After 4 weeks of school, you'd think we have a routine in place.... hmmm, no!!
Anyway, this week after battling and battling we changed it up some and it is working soo much better!! I'll be posting about why and what we are doing differently at another time!
Bible
Again we are chugging our way through Psalms. And the kids learned 2 more verses from 1 Corinthians 13;) I love that we are doing the whole chapter, I really wasn't planning on learning these beginning verses, but they are very foundational to the place of "love" that the more familiar verses describe.
The kids are still using our prayer cards, updating some and adding others!! They push me to pull them out daily!! Those have been very good for us :)
Language Arts
Chris and Lydia worked in their Spelling Words this week following a "schedule" I had come up with. They interact with their words each day for a few minutes;) With Chris it worked beautifully, he soaks in everything soo quickly. One of the activities (for Anna) is writing in flour... Chris likes it too:)
Lydia did quite "get it" with the Spelling words (which was a list of 5 words from a sight word sheet). Anyway, I'm going to try to use
You Can Read
with her for next week. I saw it this week and think that while it seems almost too easy for her, it would be fun and not be "intense". And because all the activities look really fun and are working with the SAME 4 words, I think she'll get it easier.... we'll see how it goes;)
For free reading, Chris (and I) have been working on a series of books that is "new to us" called
Elephant & Piggie by Mo Willems.
Chris just loves these. There are some words in each book that are new to him, but they are either sight words or ones he can sound out. Not classic... but definitely fun and getting him to read because he WANTS to :)
After a trip to the library Anna was a much more diligent reader. Her book choice this week was The Happy Golden Years by Laura Ingalls Wilder;)
Math
Saxon kept us entertained as usual:) Everyone completed at least 4 lessons, Lydia did 5 or 6... little motivated kiddo & that Saxon 1 starts at a really easy/low level... so the lessons are very simple for her. This week, we covered everything from addition/subtraction stories with apples
to fractions and writing about fall:)
History
We finished the last chapter of SOTW vol2 this week!! It feels like such an accomplishment:) We talked about the English and Spanish War, the Spanish Armada, some about pirates(mostly reading library books)!
On Thursday we made our own naval war, labeled each boat with the English or Spanish flags and set sail. Our boats didn't last long once the kids entered the pool, too!! But the kids attempted to act of the two sides fighting it out at sea.
And then the last section was exploring the world at the end of that "era".... all the places we had studied and what the current situation was in each... kind of an overview. We followed the story using a map of the world that the kids colored as we talked about each area... a nice geography quiz;)
Saturday morning it was rainy so we played the review game! The treasure was Smarties, so the happy, little Buccaneers walked away pleased with their loot;)
Science
Wednesday we dug into the rock candy... mostly because we were worried that they were getting too big for the jar opening!!
But I must have done something wrong, because there were sugar crystals stuck everywhere on the sides of the jar and cementing down the string/paper clip!!
We read
an experiment/recipe page for Rock Candy, I liked these directions a little better
and I like that it gave reasons why the sugar crystals formed;) So maybe you all can learn from us and get better results!!
It was a little disappointing, although the kids tasted some we pulled out and said it tasted too sweet:) LOL!!
As I read through our experiment for this week I felt like we had some how skipped over the idea that matter can be found in three main "states"... solids, liquids, gases. Instead of doing the experiment of making gas, we read about solids, liquids and gases!!
We used water to see the 3 states of matter:) Starting with ice cubes...
Melting them into water...
And then making steam.
Even catching it in a jar to feel the condensation!!
I also found some fun online resources:) They liked the videos from
BrainPOP
Jr
(we did the trial membership to view)
! Here was another video that was a little "older" from Scholastic.
They also loved
this worksheet
!!
I printed off a couple more that were of more substance for Anna.
Here's their selection for Matter.
And Anna played with
this "game"
of heating and cooling different solids to see how they change and how much heat is required. There also is a little quiz that was fun for review;)
Overview
I was thankful for all we did this week. And finding the online resources reminded of all there is to incorporate into our lessons when I take the time to
LOOK
!! The kids really enjoyed the science lesson with all the different elements that were included;)
And I was also thankful for the times of reading with Chris! He did his reading lessons AND the Mo Willems books;) I can't wait to see him "take off" with reading because he is soo curious about everything, when he really starts reading it will be hard to keep up with him;)
Picture of the Week
Still messing with the kittens next door;)
And our neighbor LOVES the kids being over at her house, tramping through he flower beds and talking with her about the kittens;) It's been a fun opportunity to connect with her more;)
I'm linking up to
Weekly Wrap up @ Weird, Unsocialized Homeschoolers
.
Posted by

Unknown
at 4:47 PM
8 comments


While tidying up the house I found this note;)
Funny to get notes from Chris' "teacher" (aka his big sister)
And we got outside this week and into water with a history assignment (explanation will be in our "weekly wrap-up"). Kind of sad to think of our "pool time" as the last until next summer! Just thankful to have a little sun during this cloudy, rainy week!
The real-ness of this picture was funny to me.
The girls both smiling while holding their little escaping brother's shirt!! And he wasn't happy about it;)
Posted by

Unknown
at 7:00 AM
2 comments


Thursday, September 22, 2011
The girls hard at work on their math...
Chris' creations...
Busy little sugar crystals...
Since I've had a few questions about the rock candy...
Here are some directions very similar to ours
, but they mention NOT putting it in direct sunlight... whoops!
It made pretty pictures though:)
Posted by

Unknown
at 7:00 AM
12 comments


Wednesday, September 21, 2011
As you can tell from the header... I really liked the apple pictures we did last week:)
But as I put together the collage I quickly realized that I didn't have any of Nate with an apple :(
So we took some and it turned out to be a fun little "photo shoot" :)
He wouldn't hand it over so we could go on a walk!
So the apple came with us;)
I think Nate won that battle;)
This is what he finally handed to me.... all he had eaten!
More Wordless Wednesday at
Posted by

Unknown
at 7:00 AM
6 comments


Tuesday, September 20, 2011
Sometimes I get tired of making the same 'ole stuff... so this weekend, with the fall weather outside, I attempted a fall treat...
funnel cake:)
It's feels fall to me because this the season around here for our state's fair and funnel cake is definitely a "fair" classic:) With food allergies though we usually have to miss out on the funnel cakes at the fair :( But now we can safely enjoy them at home!
I started by finding this
very easy funnel cake recipe from Mom's Who Think
. And then tweaked it to fit our food allergies, so our recipe looked like this;)
Ingredients:
1/4 cup of applesauce (or 1 egg)
2/3 cup soymilk
2 Tablespoons sugar
1 1/4 cup flour
1/4 teaspoon salt
1 teaspoon baking powder
Funnel Cake Directions:
1. In a deep skillet, heat about two cups of oil over medium-high heat until hot. Test the temperature by dropping a pinch of flour into the hot oil. If it sizzles right away without smoking, it's perfect.
2. Beat applesauce (or egg) and milk. Mix all other ingredients in a separate bowl and slowly add to the egg mixture, beating until smooth.
3. Using a funnel, drop into hot oil working from center outwards in a web pattern. (You can use a gallon sized freezer bag instead of a funnel by pouring the batter into the bag, snipping off a small corner of it, and squeezing the batter into the oil.)
4. Cook for about 2-3 minutes, remove from the oil when golden brown and crispy.
5. Sprinkle with powdered sugar (or cinnamon sugar mixed) and serve.
I doubled the recipe since I didn't know who in my family would try it and how many (and what size) it would make;) Let's just say that the batter stayed fine in the refrigerator until the next day:) And everyone who tried them, loved them:)
Linking up to...

Tuesdays at the Table @ All the Small Stuff
Tasty Tuesdays @ Balancing Beauty and Bedlam
and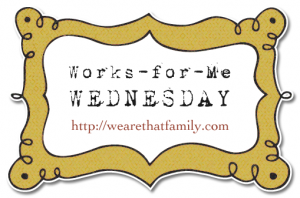 Posted by

Unknown
at 7:00 AM
5 comments


Brian took the kids to see Lion King at the movie theater on Saturday! We left the house later than we wanted along the way we worried a bit hat the movie would be too full when they got there:(
But we totally made it there on-time... they even saw all the previews:)
During the previews, Anna (7 yrs) says,
" Why don't they just start the movie?"
Then
40 or so minutes
into the movie, while in Daddy's lap, Lydia (4 yrs) says,
"Phew, I'm glad we got here in time!"
***********************************************************************************
We've been hearing more and more "words" from Nate:)
"Peas".... and he rubs his tummy (almost the ASL sign for "please"!)
"Danh Chu"... said when someone helps him or gives him something... it's obviously "thank you"
"dop" ... said when someone is messing with him... we think it's "stop"
"yeh, yeh, yeh, yeh, yeh".... this is the Lyrics from the Yes to VBS song... he loves to listen to it and dance;)
Here is this funny (and blurry) photo again...
The questions was
What is he asking for??
and it's super hard NOT being with Nate or in that "conversation"... so I'll just tell you:)
He's becoming aware of body parts... especially the face/head! And so lately he thinking it's funny to stick his fingers in our ears!! SO he tries constantly to get that little finger close enough to our ear;)
And if you ask him about "ears" he'll find his own or try to stick his finger in ours;)
LOL!! It sounds gross:) But it's really funny to us, I don't remember the others making a game of it like he has:)
Posted by

Unknown
at 6:00 AM
3 comments