Brian and I have been the hunt for a new bedspread and look to the room for ages now... hmm, I'm thinking it's been at least 2.5 to 3 years! We've purchased spread, quilts, and comforters only to get them home and be disgusted with how it looked in our room and with our furniture.
We actually like our current quilt but we're beyond ready for a change... I know Brian had it in his room at his parents house before we were married!!! LOL
So this is what our room always looks like. After taking some before pictures we were determined to have CHANGE!! And we did some tidying:)
While on vacation we saw a quilt set that we BOTH really liked... that doesn't happen MUCH... LOL... so we decided to purchase it and try it out.... What do you think???

There are other changes in the works for the bedroom as well!! We need to get CURTAINS!!! I was thinking a valance.... dark brown or chocolate to coordinate with the dark colors of the quilt???? Our furniture is a tough shade to coordinate with... I at least I think so.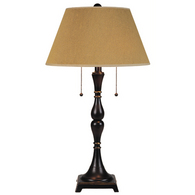 We purchased new lamps on Saturday....
They have yet to placed in our room.... what do you think???
And if, if, if I ever thought of painting the walls in my bedroom (totally NOT a priority right now), what color would actually be decent with my lighter wooden (almost orangey furniture)????
And while I'm picking your brain, does anyone have any ideas what to do above our lamps??? We've got some country home scenes right now... just because they matched. BUt I would love to have something for us... that encouraged us or was about us???
We jokingly thought about Word Walls....one that said "his side" and "her side".... but maybe a verse that was appropriate and could be split by the window???
And that's only if Andrea and I can't come up with a different way to arrange the room????
It's a lot of work. But I really think once we get our room how we like it..... we'll be able to enjoy it more and not use it for the unfinished project dumping grounds that it tends to be sometimes.