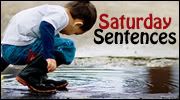 This morning we let Anna pick her own dress out of the closet:) She picked a very summery, beachy dress and I tried, tried, tried to figure out a cute hairstyle for her. Finally I thought just to do "messy buns" on either side...
I thought she looked soo cute! And she did to:)
Anyway, after some arguing at the front door about who was going to "call peoples' names"... I had some pretty fussy attitudes. As Anna was walking out the door after some pouting,
Christopher pipes up, "
Anna, you look like a sad princess
."
Anna's snappy response was, "
I am happy not sad
."
Christopher's reply,
"Well you don't look happy to me
."
Ahhh, the joy of little brothers pointing out our faults!!
After church she was soo smiles again! And sweet as ever during our visit with some neighborhood friends!
I'll try to post a video of the kids in the trampoline after church... whoa!
very busy!
Much giggling!