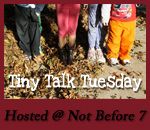 Last week at the lunch table (always a crazy place at my house!!) Chris drops a glob
o
f ketchup off his hot dog and onto his shirt.
As I wipe it off with a clean rag I had to get up to get, I VERY sweetly (purposefully sweetly because I am trying NOT to be annoyed) say to Chris, "Ok, Chris what does this teach us?"
Chris responds,
"That I shouldn't wear a shirt when I eat!"
grrrr.... LOL!!!
(not much has changed... LOL!! Found this pic of Chris at 6-ish months eating shirtless!)
I actually responded sweetly again as the girls crack up laughing at Chris' joke,"We should eat with our food over our plates."
Like I have said for the 100th time this year:) Maybe one day it will stick and his shirt won't get soo messy:)
**************************************************************
Related to kitchen activities, one way to stay sane with a fussy baby while I cook is to stick them in the walker and give them some Cheerios. This weekend, as I was preparing a lunch I got fussy Nate all set up in the walker.
As I loaded Cheerios onto his tray, Brian said,
" Are you giving him those little landmines
?" LOL!!
Then he said something about starting a support group called
Fathers Against Cheerios
:) Guess he's tired of stepping on Cheerios;) LOL!!