Some days there are soo many things I'd like to complain about....
the kids' rooms beginning soo messy, the laundry that piles up,
the meals that need cooking, the groceries that need to be purchase AGAIN,
how tied to the house we are with the demands of schooling,
a teething baby that wants to be comforted my mama only (or at least it seems like that)
and the list goes on.....
I read a quote a while back...
Before the Lord God made man upon the earth He first prepared for him a world of useful and pleasant things for his sustenance and delight.... They were made for man's use, but they were meant always to be external to the man... In the deep heart of man was a shrine where none but God was worthy to come.

Within him was God; without, a thousand gifts which God had showered upon him.





But sin has introduced complications and has made those very gifts of God a potential source of ruin to the soul.
taken from The Pursuit of God by A.W.Tozer

And THAT is exactly what I do when I complain....
I see my own goals and wants as the "right" way and demand that everyone and everything fits within MY goals instead of seeing things with God at the center!!
And those very sweet gifts that I have been given by God - my sweet (but messy) kids, my great husband, the ability to stay home with my kids, homeschool them - all become sources of ruin and strife.
very sad.
But when I feel that "complaint" come rumbling to the surface, I know that focusing on these things as gifts of God, sweet blessings instead of burdens. Or ways that I can grow in Christ-likeness or serve my family... helps!
So I attempt to be thankful through it all.... messy rooms, books opened with learning happening all day long, and a baby in my arms...
and continue to add to our gratitude list...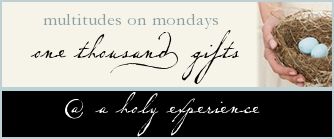 92. beautiful spring-like days
93. new life after the winter
94. a spring garden in bloom
95. an afternoon to visit a friend's old house
96. a cellar to explore
(the kids could have played all day in there)
97. gentle breezes
98. fields to run through
99. climbing high with Daddy
100. big sister's help
So thankful for the relaxing local trip to friend's "farm" and getting to enjoy the beautiful weather as a family together!! Definitely a gift:)
The first picture is also for
macro monday
:)