We really enjoyed our vacation last week, in fact, it was a nice break from the busy days we encountered when we returned home... so much that I'm just now blogging about how awesome my in-laws are....
they are extremely gracious, understanding and we really enjoy being with them:) And we are super thankful for them letting us come to visit, cooking for us and letting the kids take over their house!!
I know things with mother-in-laws and daughter-in-laws can be tough, strained, or tense. I am thankful that while neither of us claim to be perfect (
she may be, though!!
), I really enjoy visiting and cooking with her and I never get the impression that having us in their home or caring for us
(and giving us an afternoon out
) is EVER a burden!
While she never "preaches" to me, she teaches with her attitude and actions. And this THICK skull/heart of mine is challenged through her model. It reminds me of
Titus 2: 3-5
Similarly, teach the older women to live in a way that honors God.
They must not slander others or be heavy drinkers.
Instead, they should teach others what is good.
These older women must train the younger women to love their husbands
and their children, to live wisely and be pure, to work in their homes,
to do good, and to be submissive to their husbands.
Then they will not bring shame on the word of God.
I am soo thankful for her, and other in my life, that demonstrate with their lives and attitudes how to serve Christ in all things cheerfully! And my continual prayer is that my heart is sensitive enough to understand and attempt to live it, too!!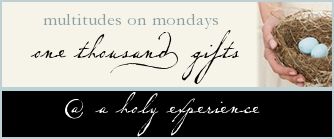 101. warm afternoon sunshine
102. snoring little baby
103. wind chimes tinging
104. mommy moments to read
105. shared discoveries of a little boy
106. comfy shoes
107. shared tasks
108. baby steps
109. love notes from a child
110. borrowed socks from Grandma
111. sidewalks for biking trips
112. kissing shadows
113. everlasting undeserved love
114. the Titus women in my life