I've shared some about the ups and downs of house hunting and I'm really praying that will be coming to an end soon (because we'll finally have plans!). That in itself has been a huge part of our schedule the last 2 months!! And I have NOT been as patient or willing to relax and trust like I should be.... just not having definite "plans" is starting to "eat" at me.
But there are a lot of "transitions" that we are still making since
Brian started working full-time job at the college
.
The hardest thus far has been his schedule and location change!! I'll share about the location first...
Since we moved to our parsonage, Brian has worked either at home or just feet behind the parsonage in the church office housed in our fellowship hall. We often giggled about the "tough" morning commute... stepping over the baby gate in the doorway to the home office or walking a few feet to the covered walkway in front of the fellowship hall.
In fact during the earlier days I kind of disliked that Brian was soo close. I felt guilty when I was invited to picnic at the park with friends. Or I felt stressed at lunch to have a full meal ready for him (and the kids). I felt like I needed to have the house in order throughout the day since he could have walked through at anytime. And there were times when he'd be on an important call and I'd be trying my hardest to quiet the fussy babies or loud toddlers.
But Anna commented the other day to me, "Mommy, I really miss sharing the school room with Daddy. He always could see what we were learning!"
How did we get blessed with such sweet kids??
She was right though. With Brian gone all day, it does feel different in our house. We do feel like we are missing him... even the little things like when we set the lunch table for only 5.
Anyway, Anna's comment also made me feel guilty over not enjoying the years of having Brian soo close... him reading a little bit during lunch with us, or watching kids ride bikes as I put final touches on lunch. Or him being that extra set of hands as I nursed Lydia with a toddling, mischievous Christopher running around. Calling Brian and having him help me buckle little bodies into the van for an outing ...so nice to have help when loading up!!
Those days are gone.... at least during the normal week! And I do regret, I didn't enjoy them more!
Our decision to look locally for a home, versus farther near the bigger city, stemmed from some of this, too! Having Brian's job location closer means that he is closer to us and we are closer to him. He has a smaller commute to work and we can stop by before a picnic or run him lunch... which Brian really likes because
he misses us, too!!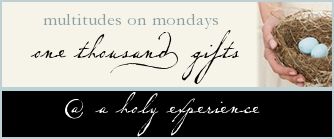 310. a very hard working husband
311. reading about Helen Keller as a family
312. meeting up with Grandma & Granddaddy.... TWICE this week!!!!
313. indoor playground at McD's
314. Nate's delight going through the playground and down the slide "alone"
315. a little "h-whoa" when we enter into a room
316. giggling at the rodeo
317. little cowboy boot steps heard running across the floor
318. some
new tunes
319. watching my children participate during a church service
320. cookies!!!
321. learning to be patient... even when it's tough
322. seeing love like 1 Corinthians 13 lived out
323. reciting memorized Scripture with my kids
324. weekends with Daddy