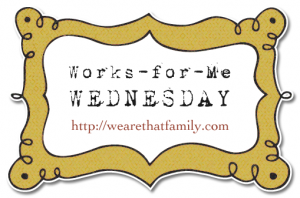 My friend
Shannon posted a Pinterest inspired fruit fly trap
that they had used to help their fruit fly problem!
guess who also has a fruit fly problem???
we do!!
So this afternoon we made our own Fruit Fly Trap to catch the few that we're driving us crazy:)
Mine wasn't pretty....
scrap piece of construction paper ... made into a cone with a tiny whole at the end
nasty, overripe banana that had been hiding in the fridge escaping from the fruit flies
good 'ole, reliable duct tape;)
but it worked:)
And the kids are soo excited about their new "pets" ... LOL!!
Check out more
Works for Me Wednesday
!