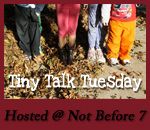 Last week I began working out.... again!!
I have just felt so weak and worn out recently! And the "post breastfeeding" pounds have started to creep back... who, am I kidding?? Those extra pounds are taking over my body... weighing me down and making me more self-conscience!!
I want to be a healthy, active Momma.... so I'm determined to sweat and work those pounds off...
by getting "my tail kicked" by Jillian Micheals while the kiddos nap/read in the afternoon! I've heard good things about Jillians Micheals 1st DVD and as I was about to purchase it, Ripped in 30 was getting attention!
Yikes, I should have gone back to my walking workout;) But I made it through and after a break this weekend to let my body heal... I've been back to working out this week;)
The funniest thing has been the kids' reactions to my working out....
Anna (7 yrs):
Momma, what are you doing?
[when she 1st found me working out!]
then minutes later...
Anna:
You're not doing it like they are???
(LOL!!)
then minutes after that...
Anna:
Are those muscles on those girls? You don't have anything like that?
WHat an encourager.... ha haha haa!!
*******************************************************************
And Chris snuck out of bed to draw a picture of me working out...
I love my eyebrows:)