Thursday, September 29, 2011
"Being Realistic"... about Homeschooling with a Toddler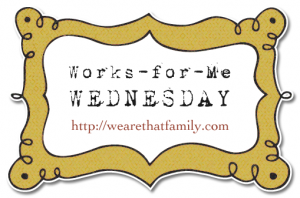 Hmmm, my schedule isn't working!! Our days look nothing like
the amazingly worked out plans I posted weeks ago
!!
I think it's because my plans were "goals" ... and they really didn't fit our routine!!
And while I had hoped Nate would LOVE some individual time playing with his awesome older siblings...
he had high hopes of "doing school", too :)
And so instead of playing with the older sibling assigned to play with him, he stuck with the kids schooling... stealing pencils, writing all over himself with markers, standing on the school table, trying to eat calendar magnets.... toddler antics galore!!
So we're tweaking.... after 4 weeks of fighting it... we tried something new:)
And so far, last week and this week, it has been working well:)
Schooling pretty much finished before lunch, kids learning, happy or napping toddler....
and a less frazzled mom!!
Since Anna is the 1st one usually ready to start school.... I start with her:) Makes sense! I can get all her core work (that needs my individual attention) done in that first hour while the others finish chores and play. And before they get wild, Anna and I are finished and ready to include everyone;)
One of my goals was to start teaching Nate to be quiet while we did a devotion or reading time. By having him settling down in his crib while we work on memory verses, prayer, Bible reading and reading from The Book of Virtues (on Friday).... he is content, listening quietly, CONTAINed ;) and learning to listening quietly:) I was amazed how quietly he usually listens.... it has been working well... just need the older ones to stay focused and still :/
Those were the two biggest changes;)
And it's been working wonderfully:)
It's funny how the coolest "plans" can be made, but the ones that usually work the best are the obvious ones that come out of the normal flow of our day;)
I should mention that I'm saving the other plans;) Seems like once Nate gets a little older to realize siblings WANT to read and play with him and he doesn't nap as long in the AM...
we'll have to go back to man-to-man defense with him;)
Also, totally submitting this to
You Capture
for the bright green PJs and ugly green wipe turned marker box;)
Posted by

Kelly B
at 12:00 AM