So I've been neglecting to share more about our house hunting.... not much to share just yet :/
We've followed leads and leads to land and houses for sale between where Brian will work and where we'd like to live.
Country road after country road...
kids with bowls of snacks...
GPS leading the way to all the addresses we have written down...
then spotting 5 deer and 15 wild turkeys near one property we were considering !!
In one sense it is a very exciting time. After being in one place for 7 great years, this move really feels like a "new" stage of life. Brian has a much different job. The kids and I have adjustments to Brian's new schedule... and then once we move we'll adjust to schooling in a new place with new neighbors and a new city to explore.
In another sense it feels like everything is "up in the air"!! How do we know we have found the right house/land? What is the best floor plan for us? Where we will live? When should I start packing? When we will move? What do we get involved with right now?
And just as I start to get overwhelmed with the "unknowns" I hear....
"Mom, look at this!" or "Mom, can you help me!"
I get brought back into RIGHT NOW! My goal and desire is to live in the "right now". To be faithful in the tasks of today... keeping THIS house, being apart of the little lives/hearts of my children, serving my family in each moment with the right heart and enjoying our church family a little longer.
Thankfully though there is a balance... # 269! We can hunt, plan and talk about the possibilities without everything becoming overwhelming...
and we think we've found another spot we BOTH really like in a location that is perfect... #270! So now it's really figuring out if we can put an affordable house on it;)
And since it's Monday... I'll continue to count :)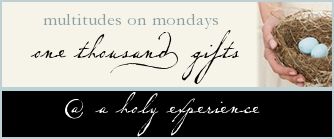 271. messes, that are really projects
272. long sleeves in dresser drawers
273. a loyal friend
274. a supportive community
275. friends who have connections
276. housing provisions before we move
277. feeling fall coolness
278. catching sun rays
279. godly examples of the past
280. having a God that examines hearts
Some house hunting wisdom from Proverbs 3:21 - 23:
My child, don't lose sight of good planning and insight.
Hang on to them,
for they will refresh your soul.
They are like jewels on a necklace.
They keep you safe on your way,
and your feet will not stumble.
Thank you
to those who shared their wisdom with us during the
first part of the house hunting
!