Sunday Brian preached his last sermon at our church.
For 7 years (since August 2004) Brian has preached at our church Sunday mornings, Sunday nights and Wednesday mornings.
Truth be told I am glad for this day to have come...
not
because I'm glad he's done pastoring or that we'll eventually be finding a different church
(one closer to our new residence... wherever that might be... LOL!!
) In fact those two things I will miss the most!!! I know I'll be missing sitting under Brian's teaching! And I love our church members and definitely miss being with them
(when that time comes)
.
but because since Brian started working part-time and then full-time...
he's been soooo busy!! Too busy!
From leaving the house a little after 7:30 each morning, working until 2 (or now 4:30) at the college.
Coming home he went to his home office... to return calls, check on church members, prepare sermons, visit with deacons, hospital visits, event organization and set up. And work on the TWO classes (
last semester he taught 4 in one semester!!
) is teaching!
We'd usually see him emerge about 6:30-ish to catch the national news and eat dinner. Usually he was with us until the kids went to bed about 9... and then it was back to work!!
Weekends were the same... just getting everything done. Saturday didn't include any time at the college, although he usually has a book with him to keep up with his classes :(
In Brian's words "I have no weekend, no breaks" and he didn't! And that meant we didn't either... at least not with him :(
So his last sermon hopefully lets him have some downtime now... although his plate is still pretty full... working full-time at college, teaching one class at the school on week night, one online class and trying to find us a house!!
But
it is sad
to think that "this season" has come to an end! We have enjoyed our time at our church.
We came to this church as a young couple holding their one little babe in their arms.
LOL! ..... has our family changed in these 7 years!
We have often said that we have grown a TON from serving this church. Learning about pain and loss. Encouraging those struggling and giving generously. Growing in maturity, knowledge and love for others. And serving.... in a small church everyone does their part... big or small!
Brian's last Sunday sermon marks the end of his pastoral service to our church. But because we do not have a house picked out or ready for us, we are staying!! The church is being soo gracious by allowing us to stay in the parsonage a little longer while we make permanent housing arrangements!
We are soo thankful for their generosity!!
And excited to be able to stay, worship and serve with them now as regular church members!!
Funny though that they are just as happy to have us stay as we are happy to stay:)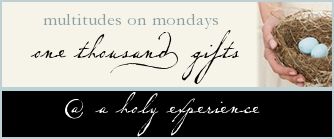 281. a delicious meal fixed in Brian's honor
282. church members happy to have us stay
283. tokens of gratitude
284. tears of joy and sadness
285. families attending church together
286. good memories
287. friends to share burdens
288. church family that "holds up" those struggling
289. wise men and women of the faith
290. a nursery volunteer;)... thanks Sue-sue... I really needed THAT!
291. boys room totally cleaned
292. answer to prayer for a family member's health scare
293. hearing children practice memory verses on their own
294. a new loved series for an emerging reader
295. possibilities
296. a gift of fall mums