I enjoy the titles
Kris from Weird, Unsocialized Homeschoolers
gives to her weekly wrap-up posts. As I thought about last week, I couldn't help but wish for our week to
last
. It was wonderful having our days free from "have to get done"s and to play and spend time together. And then we finished the week with a trip, hotel stay and birthday party:) A great week!!
We took the week OFF.. sort of:) But we did soo little work, I have to blog our week by DAY:)
Monday
We took off and did some triple couponing shopping in the morning. We left our house before 9am and were back to eat lunch;) We went to two grocery stores and the toy store to check out a new carseat for Nate and a birthday gift for my birthday girl:)
The kids napped and then we played outside together before dinner;)For dinner the kids wanted to roast hot dogs on the fire pit;) A very fun idea... so Brian and I prepared dinner and got everything set-up.
But then a storm came through, so we moved everything inside!!
Tuesday
We met up with some friends at a local park. These are kids that we don't often get to play with and so I was soo pleased with how well they all played together;) And thankful for the sweet fellowship of these other moms!
After lunch with our friends, we finished our grocery shopping for the week.The kids tolerated 3 different stores with me;) Nate falling asleep in the BECO in the middle of of Walmart stop:)
And you've got to LOVE subtraction flashcards in the car during the traveling;)
Wednesday
We had a quiet morning at home, so I pulled out some of the library books and printables I had ready for the kids for Memorial Day. We read, talked about Memorial Day terms and colored the American Flag. We also listened to different renditions of the Star Spangled Banner:)
From some blogs and things I had been personally thinking through, I decided to read the Scripture passage of when Samuel anoints David to be king. And especially the words/concept that God looks at our hearts and not our outer looks. LOVED that Anna later quoted it to me when I was trying to pick an outfit later in the week;)
I read with Chris. Anna did her own reading and worked on her 1st summer journal entry, Lydia worked on PBSkids;) And then we headed outside;)
We had our own picnic, played in Nate's kiddie pool, ate popsicles and then took baths;)
Then read before naps!! After naps we ate and went to our church's prayer meeting.
Thursday
I called Thursday our "preparation day". We did chores, and cleaned, and more cleaning. Then we read some library books and packed our bags for the weekend;) Chris also decided to try to "copy" a book and Anna worked on another journal entry about her upcoming birthday Friday.
The kids went outside mid-morning and played their little hearts out until lunch. After lunch we played in the pool again and yes, more popsicles;)
Friday and Saturday
We went to the beach.
Since my family is from around there, we were able to see everyone and celebrate Anna and Hannah Grace's Birthdays together;)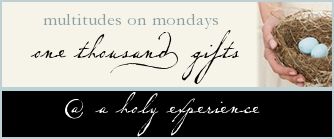 199. simple summer days
200. baby sound asleep in BECO
201. a stranger's help
202. kids excited about toys
203. snacking on groceries
204. tears of thankfulness
205. cousins sharing a birthday
206. ocean breezes
207. foamy water
208. squeals of delight
209. soft bed for a quick nap
210. indoor swimming
211. baby splashes
212. warm shower
213. cookie cake that worked
214. inviting home
215. Pey wanting to hold Nate
216. another day to spend time with those we love
and since it's Memorial Day... we're remembering to be thankful for...
217. men and women who have and continue to serve in the military
218. their families who sacrifice to keep them serving
219. our nation of freedom
220. our Heavenly Father who provides, gives and blesses
Linking up to Kris @ Weird, Unsocialized Homeschoolers and Holy Experience: Multitudes on Monday.