With Mother's Day coming this weekend, I've become eve more reflective of what "mothering" really is and looks like and how I need to change. I have a couple of things to share... but they are still being worked through:)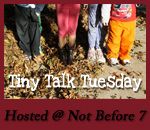 So I asked the kiddos some "mother " questions this week and these were their answers:
What does a mother do?
Lydia (4 yrs) : A mommy needs to nurse the baby.
Chris (5 yrs): A Mommy cooks dinner really well.
Anna (6 yrs): Mommies have to fold the clothes.
What is the best part of being a mom?
Lydia : Cooking lunch
(yes that was the meal we had just finished eating!)
Chris:
Go somewhere fun with her kids.
Anna : They can wear high heels.
(then she adds)
And love her kids?
What is the worst part of being a mom?
:(
Lydia: Yelling at her kids.
(I'm working on it... really... because it breaks my heart when I raise my voice out of reaction or anger.)
Chris: Giving spanks.
(** thank goodness this is happening less, and only for serious issues)
And I'm glad both Lydia and Chris answered with things that I really don't enjoy about parenting.
Anna: Folding the clothes.
What is the most important thing a mom needs to teach her kids?
Lydia: To learn about Jesus.
Chris: School work.
Anna: To be nice and have good manners.