As we traveled to the grandparents a couple of days before Christmas, Brian and I shared some of our Christmas memories with the kids. Stuff like playing on a FL beach Christmas Day with my siblings, getting a new bike or going to an aunt's home filled with grandparents, aunts, uncles and cousins.
It was interesting how all our memories centered around spending time with family and special presents.
Our Christmas this year was the same;)
It started with a scavenger hunt for Chris, Anna and Lydia to find one of their gifts from us (2 gifts being too big/awkward to wrap). Each had their own hunt around Grammie and Pey's house...
Victory;)
And yes, the kids were all dressed up:) After exchanging presents with just our family, we packed up and headed to church with my parents! It was a treat to be back at the church I attended on college breaks! Fun to see some old friends;)
When we got home, the aunts, uncles and cousins began to pour in;)
And more gifts before our meal together;)
It was busy having us all there... but I know we will all look back and we thankful for the times of gathering.
We traveled home Christmas evening and the kids opened the stockings that got left behind;)
Monday morning we headed to the grandparents in the South:)
And you guessed it... more Christmas family moments and presents;)
Sharing the moments via Skype with Uncle Scott & Aunt Bea in Thailand.
oh... so sad it's all over soo quickly!!
I mean relatively speaking... the meals consumed quickly, the family dispersing soon after and the gifts all tucked away in their new places (lol... ok, not yet... but we're getting there) in just a short span of 10 days!
And now we're into a new year!! WOW!
I've got tons more to blog.... a look into our new year!! My new job... yikes!! My not-so-little baby's new month! But I'll just have to leave it unwritten for now...
because for now we're just soo thankful for the Christmas memories we shared this year:)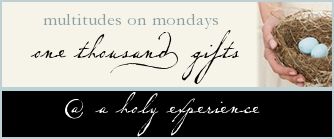 337. peaceful Christmas preparations
338.
Christmas Eve trip to Williamsburg
339. Christmas Eve party with neighbors
340. little arms digging into stockings
341.
delicious chocolate treat
342. scavenging for gifts
343. Pey helping with clues
344. worshiping at church Christmas morning
345. a full house
346. little cousins together
(cute even with a few mishaps)
347. protection of Grandma
348. homemade,with added germs, biscuits
349. skype-ing gift opening with family abroad
350.
a warm lap for napping
351. 2 visits with Gran-Grandma:)
352. simplicity of wooden blocks
353. a full week of vacation with Daddy
354. anticipation of visiting friends
&
355. a New Year.... with many expectations and challenges leading to opportunities to grow in our faith...
if we are willing!