I haven't mentioned much about our searching for a home and moving :(
Honestly.... it's been a very stressful time.
I've had many people tell me to "enjoy this exciting time". I try to smile and share the latest developments. But none of this has been very enjoyable.
While we searching in the city in late-August, we questioned over and over our decision to live soo far from Brian's work and whether we really were "golf course" (where the house site was) people.
And then when we searched in the small town, we questioned whether this would be a long-term move for us. Whether we should just rent or find our dream home or how our kids would have other homeschooling friends (since at that time we knew of NO other homeschoolers). After searching the available homes, we also felt like building was a better option for us.
Finally in early
October
we found a home. A modular home, already built, on clearance and needing some land and a family. Seriously, folks, this home is a "dream" home for us.... if it wasn't for the fact that it's on sale AND the economy is in our favor right now, it wouldn't have been even a remote possibility.
Then we began a search for land for our home;) Between soccer games and Brian's late nights, we found a piece of land that fit BOTH of us! A quiet, isolated, wooded area (Brian) in a neighborhood (Kelly)... total opposites, LOL!!... seriously, it didn't seem possible. And then for the land to be in our price range and close to town where Brian worked, too!! Perfect!
The family marking out where to put the house for the contractor's plans
We started the loan process at the
end of October
.... just days later we were pre-approved!! After 2+ months of searching it looked like things were really moving... right??
Since starting the loan process, it's really felt like "jumping through hoops"! One day we'll get an email asking us about our parents' addresses... the next week it's getting some document from town to finalize our contract.
Finally on
Wednesday before Christmas
we got an email asking us to finalize how the loan was to be distributed.... YEAH!! We talked with the bank and our contractor and started making mental plans of when we could meet the lawyer to get everything finalized. What an awesome Christmas gift!!
Then
the next day, Thursday
, we're contacted by the bank that a portion of the property is in a FLOOD AREA.... WHAT??!??! Seriously?? Isn't that something we should have been told in October when we were looking at the land or when we were signing contracts about the land???
Another curveball, with more hoops.... getting the land surveyed, looking for property markers...
it's been emotional, stressful....
see... we even had neighbors and HIGH grass;)
definitely NOT "enjoy this exciting time"!!
Makes me wonder if we really are making the right choice with this house, this land, right now?
or
Maybe I am needing to learn perseverance and/or patience??
While I'm trying to share this without whining, please forgive me if it sounds like that!! We're just tired and ready to be "home" wherever that is. And let me also say that I know that these feelings are probably what most people feel and go through during purchasing a house or other big decisions.
So I really have tried to combat the stress and discouragement with being thankful for this opportunity....
just the fact that we can even look at purchasing a home, that our needs are taken care of and that we have a hope of being "home" sometime soon!!
And by being hopeful (and yes, a little excited) about "our" house and property!!
Until everything is finalized.... we'll just keep jumping through hoops!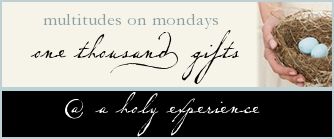 356. learning patience..... some more :(
357. ability to afford a home
358. a place to feel at home... one day
359. new homeschooling families nearby
360. that the process is going forward
361. learning to parent in light of God's Grace
362.
a part-time job at home
363. warm soup
364. snuggling a sleeping toddler
365. a chorus of "forgiven, forgiven, forgiven, again"
366. cornbread with a pat of butter and a little syrup
367. a baby joke (calling me "Da-da" on purpose) with giggles
368. tromping through "our-hopefully-future" yard
369. hearing the Indian calls as the kids play in the woods
370. hope... in the midst of fear, sadness, stress and exhaustion