I have been one of those mothers that fights for that morning nap until the kiddos are older than 2!! I think my kids just function better when they aren't sleepy and it's been awesome in attempting to get most of our homeschooling done in the morning;)
When Nate threw a curveball into our mornings by NOT napping at 18 months... life got busy! While we still have few mornings I can still get him to nap, the majority of days Nate is with us all morning.

In trying to prepare myself for 4 kids during school time, I have revisited some of my old posts (and found some new ones) and made a new list of how to keep the younger ones busy:) Maybe it can help you, too!!
Toddler
* Counting Bears, Beans or Rice and plenty of cups... oh, and on a blanket!!
*Coloring
*Aqua Doodle
*Playing with or gluing
construction paper shapes
*Duplo blocks
*Train set
*Tons of Tot Trays and other fabulous ideas
HERE
!!
* Videos - Little Einstein, Leap Frog: Letter Factory (a MUST have)
*Chunky, simple puzzles
*Wipeboard, markers and close supervision
*On a lap to be read to ( good for the older ones to have someone to read too!)
*LeapFrog Letter Whammer
*
Workbox Ideas
*Play - Doh ... yikes!!
*Pattern blocks (he plays with them)
*
Poking pipe cleaners in a strainer
... ingenius
*Snack:)
Preschoolers (when they are ready)
some of the above plus....
* I've loved using
this "everything" book
for my kids when they first started to want to "do school"... it's cheap and they can do as little or as much as they want. It's also broken into subjects- colors, shapes, letters, puzzles, etc - so you could make all your activities themed based, if you wanted;)
*I've never used these
Preschool Packs
... but it's only b/c I didn't know about them while we were preschooling! We will be using them with Nate;)
*
Letter of the Week by Confessions of a Homeschooler
! I'm hoping to use this with Nate, when he's ready:) She also has a K4 Curriculum;)
*Cut & Paste workbooks... I found some at WalMart for Lydia last year
*Cutting up magazines to make a collage (colors, shapes,animals, themes or beginning with letters,etc)
*Practice letters/writing.... we use wipeboards, chalk outside, workbooks... whatever and whenever they want;)
*
Starfall
*Videos - more Leap Frog, Learning Spanish ( we use Kids Love Spanish)
*Looking through library books
*Refrigerator letters
*LeapFrog Tag and books;)
*Puzzles
*Memory and Matching games
*Pattern Blocks and Pattern designs
Kindergarten ideas
*Ordinary Parents Guide to Teaching Reading
*Saxon Math (I start with 1st grade in K.... and my kids have done well!)
*
You Can Read by 1+1+1=1
... cute and easy printables to teach sight words... we use it & love it!! I could have started before K (at least with Lydia!!)
*Five in a Row - I did this with Anna (and two little tag-alongs) and we loved it. I'll definitely consider using some of the ideas/format for Nate when he's ready to school with us. Maybe try to conform each week to a little guy book about our history topic... or something!
Inspirational Blogs/Websites (especially with preschoolers)
1+1+1 = 1
Confessions of a Homeschooler
PreKinders
A Gentle Mother : Little's Activities
A Toddler Box
Do you have any more ideas to share??? I'd love to hear them!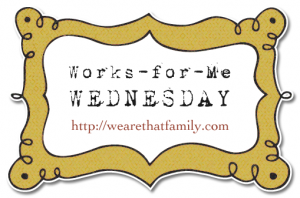 Linking up to
Works For Me Wednesday
:)
and any other linkys I find !!!
**I feel like I need a disclaimer with all these links:) None of these links are paid advertising... just resources I hope inspire and encourage those with little ones (with or without BIG ones at home, too)!!