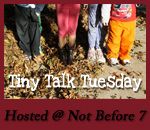 This week Brian got out some more of his favorite childhood toys!! He had basically saved his entire collection of G.I. Joes, figures and vehicles.
The kids had blast looking through the toys:) And watching Brian put all the pieces together and tell them what each item was.
Brian held up one piece and Anna shouted out,
"It's a purse!"
Such a girl guess, LOL!!
Brian chuckled and the corrected her,
"It's binoculars!"
Later in the evening, Chris said the sweetest thing,
"Daddy, thank you soo much for saving all your toys for me!"
************************************************************************
Last week we made fried chicken sandwiches for dinner;)
Our way:)
We discovered a few weeks ago that we could McDonalds chicken nuggets and $1 chicken sandwiches.
So while eating a dinner of fried chicken sandwiches, one of the kids said,
"Whoa, Mom! These are even better than the ones at McDonalds!"
A+ for Mom;) LOL!!! Nice to know my kids are rating mine better than McD's:)