I love when inspirational/teaching books begin to inspire and challenge my actions and thoughts.
I've been reading more of
One Thousand Gifts
and was just thinking through the "empty to fill" chapter. In one section Ann talks about having a perspective of scrubbing pots and pans or doing laundry as means of serving God. Not trying to please or manipulate others, looking for anything in return... but a simple means of
"dedicating the work as thanks to Him"
(pg 194). Whoa!
Then preparing for Bible study I read a chapter about priorities and having the right things as priorities during our days that seem to fly by. Two quotes from
Lies Women Believe by Nancy Leigh DeMoss
grabbed my attention the most:
"This is not to suggest that it is necessarily wrong for a wife and mother to have a job outside her home - unless that job

in anyway competes with or diminishes her effectiveness in fulfilling her primary calling at home

." (pg 127)
I am thankful that right now I am able to stay at home with my children. But to be VERY honest, there are "jobs/tasks/hobbies" that I've been apart of that DO compete with my "home" and definitely effect my effectiveness... especially when I stay up too late.... and the pancake crew is up bright and early waiting on
me
!
So even though I am a "stay at home" mom sometimes my brain isn't always focused on the home. And I'm working on having more balance... of having some "creative mommy time" while still having the correct focus!
And this quote from
Lies Women Believe
is from Dorothy Patterson. It continues to run through my head over and over:)
It is true that many "perfect jobs" may come and go during the childrearing years,

but only one will absolutely never come along again

--

the job of rearing your own children

and allowing them the increasingly rare opportunity to grow up at home.
This quote grabbed me because of the idea that these years with my kids at this age will NEVER come again. As much as I want to accomplish each day... cleaning the house, blogging some pictures, doing some schoolwork... I need to keep in mind that these years are precious and fleeting and can never come again!
Just ONE way this has applied to me already.
Sundays during church I have been trying to keep the kids in worship so they are trained to sit, so I can hear the sermon too and so we're together in worship.... but really, with Nate soo little and wiggly and Chris and Lydia(when she sits with me) still needing corrections... it's exhausting! I might get bits and pieces of the sermon at best and disrupt the rest of the congregation with Nate's protests at worst.
So I just "let it go". I will one day get to listen to a whole sermon without interruptions:) One day:) But right now I could spend 30 minutes (just during the sermon) with the kids in the nursery teaching them about God on their level, practicing the ways to worship in "big church" and yes, playing with them.
What a difference!! Not feeling exhausted after wrestling a toddler during church (lol!) or feeling defeated that I HAD to bring some rascally kids up to nursery... again!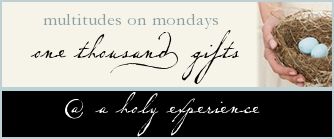 221. momosa blossoms
222. sounds of hummingbirds playing (or fighting)
223. not so baby, yet still adorable chubby cheeks
224. cute dimples
225. humidity curls
226. little boy games
227. funny "bad guy" faces
228. children recounting Bible stories
229. a comforting hand
230. full nights of sleep
231. families expecting new babies
232. renewed priorities