Nate has been needing a trim for a while...
I just have been trying to "wade it out" hoping his hair would get long enough to "blend in"...
But this morning, with a lack of humidity in the house... all the curls in the front fell and left little Nate trying to keep his hair out of his face.
I did try a quick fix for a sticky pancake breakfast.

(wouldn't he have made a super cute girl??? just kidding!)




















Obviously my little boy can't be wearing hairbows... so I called my mom and sister to figure out a plan. I know to distract the little ones during haircuts with videos or treats:) And I knew I needed some scissors and water to keep his hair "slightly damp"... aka manageable;) But it's the HOW to cut that had been stalling me the most!!

My mom tried to help and my hairstylist sister didn't answer... LOL!!
I was determined to cut his hair!

I gathered his hair by rectangular chunks and started cutting
(i should say trimming)!


He wasn't entertained by sitting on the push toy going NO WHERE...
so there was a little game of chase;)

I was walking, not running with the scissors... sorry the pic looked dangerous;)

We finally found the perfect "still" spot for him. On the bench with a Popsicle, his brother and pointed at the street to watch the trucks and cars race by:)
I'm NOT a stylist... but I think we did well;)


You can see it's not straight across. I really didn't want it to be since he usually has it pushed to the side OR its curled up... gotta love humidity curls.

And there is a piece in the pic on the right that has since been trimmed to be a little more even;)

Oh, and he was super still with the popsicle. It was very messy!!! You can tell in this picture that he ENJOYed it;)

You might even see in these "final" pictures the HAIR that was stuck on him... he didn't mind;)

And his newest battle wounds... from trying to take on the driveway :(

Definitely bathtime ;)

But first,
we had to be sure everyone knew that no curls were injured during the trim;)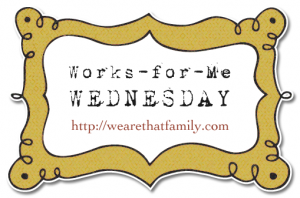 More Wordless Wednesday at