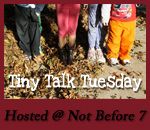 Thanks to Mary @ Not Before 7.... I just love recording and remembering what my kids have said each week;)

Here we are at the hospital on Sunday!!!



When Chris 1st saw Nate, Nate was dressed in a little sleep-n-play. Chris immediately asked, "Did he come out with those clothes on?"

***********************************************************
Nate got fussy when we got home. It was time to feed him:) We are nursing and we've explained it to the kids before and they have seen other nursing moms.

As I get myself and Nate ready, Lydia looked up at me and asked,"Are you going to feed him with your tummy?" LOL!!