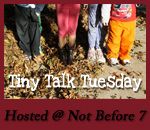 The kids love little brother... although they have recently told me to keep Nate quiet so they could watch their TV show... LOL!!
But one thing I wasn't expecting was how possessive they are over Nate:) Twice last week as sweet friends were holding Nate away from the house, the kids spoke up....
Lydia or Chris (both hve done it) told one of our friends,"Give my mom back her baby!"