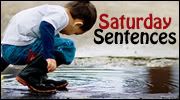 During a rough day, I looked at Brian and asked, "Why can I not just be content with the family I have? Why do I have such a strong desire for more children? Is it wrong to want more children?"

LOL... my poor husband having to deal with me sometimes!! I'm glad he is a sensible, wise and thoughtful husband. And that he can encourage with a honest and insightful answer!!

But I will never forget how he responded.

He looked at me with compassion. And then gently answered, "Kelly, within a heart of contentment there is room for hope."

He didn't criticize me for being upset and letting the hormones out...LOL! He didn't condemn me for still not having a grasp of what contentment really looks and feels like. But he encouraged me with that statement. And meant that I can have a quiet, content heart and still hope for more children some day.

It reminded me of another time of balancing contentment and hope: my single days. I remember finally getting to a point where I was content being single, not actively spying out good guys to date, but still hoping to get married one day. That was about when I felt the pull to attend seminary to learn more about God's Word and be able to "minister" to others biblically. Kind of funny, because just after my 2nd full week at seminary I met Brian.

And then I remember the greatest hope we can have. That is our hope in our Savior and Lord. We wish for His soon return and the peace and joy that seeing Him face to face will bring. Psalm 33:20 (NIV) "We wait in hope for the LORD; He is our help and our shield."

I'll share with you with this verse.... It too talks about hoping in the Lord's coming. But looking at their explanation of "hope" was encouraging... because clearly hope is normal, a part of faith and contentment!

Romans 8:24b,25, 28 (NIV) "But hope that is seen is no hope at all. Who hopes for what he already has? But if we hope for what we do not yet have, we wait for it patiently..... And we know that in all things God works for the good of those who love him, who have been called according to his purpose.

Thank you God, for the family You have given me and thank you for the ability to hope. I praise You that You have plans for us. Help me to wait patiently and contently for those things that are unseen.