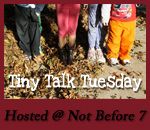 As I was bathing the girls, I reminded Lydia to wash her whole body.
It was then that Anna had to add in her mothering,
" And don't forget to wash your intestines!"
*******************************************************************************
After attending two church fall socials this weekend, we decided to have a "home" night on Halloween Night. It was cold, wet and Daddy was working late... sounded like a good idea to stay at home;)
So we got to pass out candy!
The kids were very excited about that.... I stopped counting all the squabbles I had to break up about who was going to pass out the candy, I didn't want to scare off the trick-or-treaters:) The kids reminded me of the part on Cars when the tourists happened upon Radiator Springs and all the townspeople crowded them offering their services:)
Anyway, they asked to eat dinner at the door, so they could see people stopping at our house;) A little scary...
But this was the scariest thing I saw all evening... the shirtless creature;) LOL!!