As you might have guessed.... the girls were the flower girls for Eric's Wedding.
Lydia (4), Anna (7) and little Hannah Grace(2), their cousin, were going to walk down the aisle together holding hands;) Well... it didn't quite work out that way:)
They all DID walk down the aisle!
They didn't hold hands b/c they had the baskets in one hand
and were tossing flowers with the other...
but it worked out well.
Aunt Tori :) left it up to use how to fix the girls' hair. I know she was going for a very simple but beautiful look. I had run a couple ideas by her 4th of July weekend and she was very happy with all the ideas;) Gotta love a bride that is easy to please;)
On Sunday for church I experimented a bit with Anna's hair....
We made a
ponytail flip
:) You make a ponytail. Then opened up a hole and pushed her ponytail through... very simple. It was very easy and it looked really nice on Anna who has very THICK and long hair!!
Once my mom saw it, we decided just to do that for the wedding:) So hours before the wedding we were washing and blowing drying little girl hair;) Curling the front wisps of their hair using pencils & hairspray:) Flipping ponytails:) And purchasing a little bit of baby's breath from a local florist... they sold me a huge amount for $1.99... what we didn't use ended up in Grammie's flower arrangements:)
At the location, we put in the baby's breath.
Very simple... very pretty:)
and more flower girl pics;)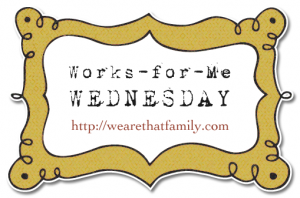 More Wordless Wednesday at