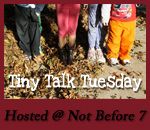 Anna was thinking of April Fools Day jokes she could do. Her favorite idea was to eat lunch before Daddy came home from working at the college. She wanted to make him a plate... awww!! But put it in the fridge, so when he came in he'd think that we ate lunch and didn't save him any!!
She would then surprise him after he dropped his stuff off in the bedroom and office. She was going to have his plate ready for him at the table;) Oh, and I think she wanted to yell surprise!!
Ok... first, it's soo sweet!! She is very thoughtful!
Second, I loved how she knew Brian's routine enough to plan how to hide it from him and then surprise him:)
**********************************************************
Chris announced to me that he wanted to purchase a vacuum cleaner!! That was a strange request from my 5 yr old non-cleaning boy:) So I had to ask him
WHY??
Chris responded, "I need a new sword. And the vacuum comes with the sword on the side with a holder, too!!"
LOL... he likes the accessories:) He made be in luck b/c our vacuum is dead... so he may get to keep the one that he's been eyeing (and using) the last few years!
**********************************************************
I don't remember my other kiddos liking the sprayer in the shower... in fact, they would scream when we'd use it while visiting family. Anyway, Nate is a hoot...