There are soo many evenings we get the kids into bed and just crash...
In relief.
We made it through another day. A day full of laughter and tears. School lessons and playtime. Frustrations and joy. Dirty diapers and balanced meals. Everything.
But I don't want to keep reviewing my days with the standard of whether I "made it through... I survived!"
I want to relax at the end of the day knowing I lovingly served and cared for my family the way I should be. That I cared MORE for their physical and spiritual well-being than my desire to have some "downtime" or my own "to do" list completed.
And refreshed before God. That I used the time, I was given that day, to grow in Him and serve Him.
I want my family (and myself) to be thriving... To be growing in the Lord. To be growing in love and service to one another. To enjoy the times of study, "cleaning" and fun spent together.
And I know it starts with me....
Spending quiet times with the Lord.
Serving lovingly and whole-heartedly.
And continuing to count.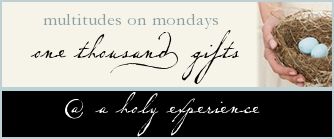 127. trampoline jumping with the kids
128. grandparent time;)
129. walking & talking with my hubby alone
130. fire in the sky - God's beauty
131. the zillions of stars decorating the night sky
132. finding constellations with the kids
133.
forgiveness of a child
134. wet baby prints
135. eternal hope
136. Sonic slushies
137.
a big sister
138. sword fights in the living room
139. new used books :)
140. a listening year
***** Can I also ask you to pray for my dad? He is facing some very serious health issues. He is in the hospital right now and will be getting some more information soon about how he will be treated. Thanks!