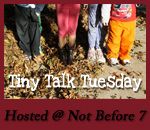 I'm sure most kids have good imaginations.... but Chris has a vivid imagination and shares his with us with plenty of emotion and drama.... LOL!!! I finally got a video of him sharing a story about him and Burrito...
*************************************************************
Since we have been on vacation since late last week. I thought I'd ask Grandma and Grandaddy what some of their favorite conversations with the kids were.
Grandaddy retold a story of Christopher:)

Grandaddy was with Chris when Chris passed some gas. So Grandaddy asked Chris if he needed to use the potty.
Chris responded with a arms' length shrug.... like he totally didn't know!
Grandma is still chuckling

about Nate christening the bath tub during BOTH of his nice, warm baths! And that he smiled back when she questioned him about it:)
Grandma wanted to get Lydia a new pair shoes since the other two got some new ones;) But they needed to measure Lydia's foot to know her size. Lydia just flat out refused to have anyone touch her.

Finally she told Grandma that if Grandma bought the shoe she liked, she's "
try it on at home
"!!
And the kids are talking about their "yummy morning"! What is a yummy morning???

It's a morning filled with pancakes, sausage, apple sauce and OJ:) They get this at Grandma's:)
And Anna gets up from the table after eating a "yummy breakfast" and says, "

I"m full. At least I got all my protein this morning!

"

Thanks to
Mary at Not Before 7
for this fun weekly meme!!! It's one of our favorites;)