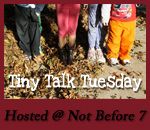 One of the best times for me to vaccum the house is after the kids are in bed for bedtime or naps:) I know that sounds CRAZY... but we usually try to clean up before each sleeping time AND some of my kids are actually soothed by the noise. And if they are going to play, it's going to be when they first lay down while I can't hear them... LOL!
This week I vaccumed in the girls' room. And got
THIS
response:
Lydia said, "Oh, Mommy, Dat noise hurts my eyes!"
Just for fun... here is another Lydia-bug quote!
I asked her the classic, "Where did I get you from?"
And she answered back, "Walmart."
Read more cute conversations at
Tiny Talk Tuesday at Not Before 7
!!