I'm a planning Mom...especially when shopping!! I LOVE to have stuff planned out so that my day is easier.......I might be a little nuts with all of my lists floating around the house....but they contain really important information!! Like right now...I've got my meals "planned" for the next week, my Christmas wish gift list for our family so I know what I have and still need to purchase and I have my chores and to do list for each day. OK, I'm nuts:) But really thinking about it and then writing it down helps me to remember my ingenius thoughts :) And it lets me STOP trying to remember them.....because all I have to do is look at the list. BTW I'm also one of those people that LOVES new notebooks/journals and pencils/pen.
So imagine this list-oriented and planned-out Mom with all three kids and sweet, understanding husband trying to complete Christmas shopping 5 days before Christmas..... aha hahaa!! As it usually happens, I can't find something and my whole game plan is confused and I'm left in the daze...he hehheee!! I'm smiling now but it was disappointing.....why??
Well the gift I couldn't find was for my sweet Anna. I just kept imagining her waking up Christmas Morning and seeing this "perfect" gift and just immediately starting to play with it. We've actually had "perfect" gifts every Christmas since she's been 18 months...in fact most of the toys she still plays with almost everyday.....
The last thing I wanted though was a stinky attitude. So on the way home I tried desperately to have a better mindset and a better attitude!! Remember I want a CHrist-focused Christmas..... not a "perfect toy for Anna- focused" Christmas!! This is crazy, but do you know what helped....I keep up with a blog called
Holy Experience
and Ann V. has been doing a list of the things she is thankful for. So I got off the midset of what I didn't have.....and remembered all things the Lord has blessed me, my family, my friends, our church and my precious children with!!! We truly are blessed!! And I have a TON to be thankful for!
Ok, to make this funny!!! I bought batteries last night for some toys old and new that were lacking. One of these toys is the Zapf Annabelle doll. I have the older version that doesn't wet....at the time we got it I was already changing two real babies' diapers, I didn't really need another bottom to change :) Anyway, she's been out of batteries for months (I actually don't rememebr the last time I heard her!) So I stick in the batteries this morning.....and it honestly could have been a new babydoll for Anna. She knew it was hers but she's been playing with her again, just like it's new! SO maybe one year for CHristmas we should just put new batteries in all of their toys:)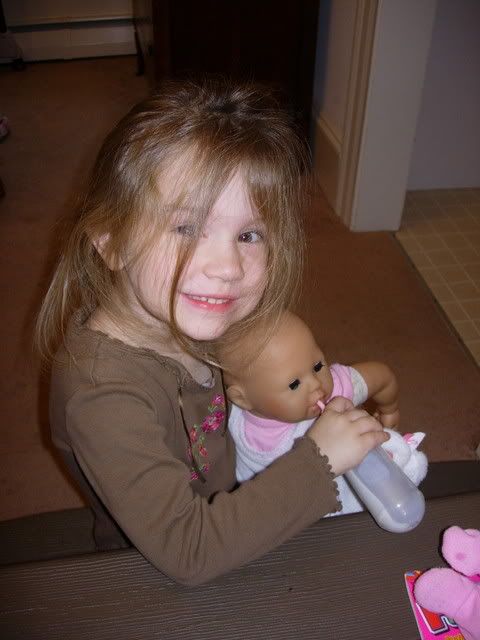 Here she is playing with the "new" doll...aka the doll that recieved new batteries. It really is a GREAT doll, she's had it for at least 2 years now:)
Back to my hunt for Anna's toy.....I have her uncle and a set of grandparents hunting for it (they said they'd be at the mall and stores today anyway). And if we find it, we find it! There are tons of things that she would like! :) Oh, and next year when I come up with my list for gifts...I really considering just ordering them EARLY.....no stores, not extra lists, no kids running around at my feet when trying to think and no silly mental distractions from a joyful celebration of our Lord's birth.
"Give thanks with a grateful heart, because He's given Jesus Christ His Son".