In my 'free' moments this week and weekend I have been savoring the words of
Ann@ Holy Experience
from her book
One Thousand Gifts
.
Oh, it's been challenging and yet, refreshing...
I say 'savoring' because I pause often to think and wonder, relate and re-evaluate.
I have really, really loved her words about the Lord's Supper and the term
eucharisteo
. What a great word-picture of the relationship between thanksgiving and joy.
And so I continue to count... to be thankful and find joy.
(and find more 'free' moments to read some more!!)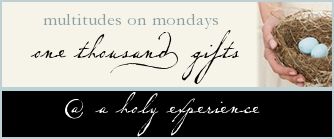 69. days where only hats were needed
70. a note of thanks and love from my child to me;)
71. baby falling asleep while nursing in my arms
72. campfire with friends
73. graham crackers and chocolate ready for hot marshmallows
74. a friend capturing my own quest for a s'more
75. light that illuminates the profiles of those I love soo much
76. GRACE that has been given to me, that I am learning to give freely to others
77. a plate of cookies to enjoy and share
78. church ladies who serve so sacrificially
79. new faces at worship worshiping
80. a new week with my sweet ones
The life of the godly is full of light and joy..
Proverbs 13:9a**

**may this be true of me and those in my house and those I love;)