I tend to compare things A LOT.... sometimes it's ok! But as a WOMAN
( mom, wife, friend, daughter and sister)
sometimes it's bad... maybe you can relate...
I don't dress
as nice as
so and so...
I don't keep my house
as clean as
them.
My kids are wild
compared to
that family.
Their kids are soo much smarter
than
ours!
Why can't we such and such
like
them?
Why can't I be more involved in such and such
like
they are?
They seem soo much closer to God
than
I am?
Seriously... my demented, little brain has these thoughts too MUCH and they really do stress me out. And when I'm stressed out, my family feels it and suffers. I also catch myself going onto the "defensive", like trying to defend that fact that I'm ok and that they aren't better than me, my situation, my family or how clean (or not) my house is.
I have been indirectly convicted TWICE about this problem of comparison of mine in the last month! Once by a sweet homeschooling friend who shared with a group of ladies a quote she had read from her Sunday school lesson.
Comparison is the

enemy of contentment.



Ouch! Really??? Was that for me???
... I wrote it down just in case:)
And then Brian summarized an application a sermon last week saying,
"We should spend less time interpreting/judging other people's lives

and give more attention to leading holy lives ourselves."
Double ouch... was he talking to me???
(LOL!! That's always the joke right, the pastor knows what you're struggling with and speaks at you!!And my pastor is my husband and he knows too well how I struggle!)
Actually, Brian said that he heard an audible noise from my pew!! Not sure if it was me responding or quieting down the irritable infant... I'll go with the latter, to maintain my "innocence"!
I have found though that my tendency to compare is directly link to my time ( or lack of time) before God!!
When I am focused on Him, the other things don't seem as important
. Or when I'm busy doing the things I should be, like teaching, reading with and playing with my kids or serving my husband, the "extras" don't seem like such "big deals" anymore... my family likes me regardless of my house-wife attire... LOL!
Another thing is that when I am reading through the Bible,
I see how much I fall short to His standards
... being quiet and gentle, giving of myself with gladness, encouraging others, loving unconditionally... those are standards that are eternally meaningful and blessings to my family and others.
And yes,
when I am intentionally looking for reasons to be thankful, my heart is content and overflowing with gratitude
for all I have been given and get to enjoy. And when there is contentment the tendency to compare is lessened... I can be thankful for the good fortunes of others. Like I'm reminded here...
Rejoice with those who rejoice, and weep with those who weep. Be of the same mind toward one another; do not be haughty in mind, but associate with the lowly. Do not be wise in your own estimation.
Romans 12:15-16
And my favorite
(you can hear me chant it above the noisy chaos of my household!!)
...in everything give thanks; for this is God's will for you in Christ Jesus.
1 Thessalonians 5:18
And so it's with that background I get to share the things I am thankful for,
things that I got to enjoy this week...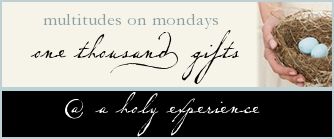 56. a delicious (and safe) pizza made with our hands
57. reading time with Anna
58. sweet baby smiles
59. two brothers in a tub
60. first words, "ma, ma"and "da,da" heard
61. rainy days inside playing games together
62. movie night snacks
63. a husband that keeps me laughing
64. the warmth of the sun
65. daughter singing the great hymns of faith by memory
66. another "singing" hymns from an upside down Bible
67. praise music while in doing housework
68. a firm reminder to be faithful to the Lord (and all He has given me) in the season and place that
I
am in, not anyone else