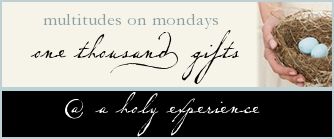 After a busy but fun week, it's nice to have a bit of time to reflect on all the sweet and simple gifts we were given:
41. safety in
our travels
(via van and train)
42. fun and relaxing times with
grandparents
43. Daddy and daughter time during travels
44. Nerf Dart gun wars with an uncle and Pey
45. encouraging and challenging chats with my mom
46. chance to meet with
fellow blogger, Sarah, from Naptime Mom To
g
And now that we're home;)
47. a fun- loving spouse who I missed more than I realized!
48. siblings back in play after being apart
49.
belated blessings
50. babe that slept for a 6+ hour stretch
(so needed for me)
51. family together for worship
52. hearing the children playing in another room
53. sweet nap time rain shower
54. a God that draws us to Himself
55. inspiring people who are being used in my life to encourage my walk with the Lord