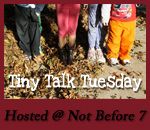 Around the dinner table (our 1st meal without the Coopers) we were having a silly conversation about exchanging kids with their family. They had jokingly said that they would take Lydia - they had asked their daughter!!

So we asked our kids who we'd like to take in exchange for Lydia. Anna spoke up first and I really, really thought she was going to say their sweet daughter, Orli.

But instead Anna said, "I think we should take Elliot. I like him. While he was at our house all I could do was stare at him. I think he's like my boyfriend!"

WHAT!!! LOL.... good thing they had already left!! I think her Daddy would have kept her in the bedroom. So funny and cute:)

************************************************************
I had Anna trying on all the pants from her drawer.... the whole warm clothes sort! Anyway, she tried on some jeans and then stood in front of the mirror.




She gave a funny face.

Then said," I don't really like these jeans. I don't think they look right with my new missing tooth!!!"

************************************************************
While playing "Bible school" Anna gave Chris the directions to tell the class about
David and Goliath.

Christopher confidently started the story,"Joseph's dad gave him a coat of many colors..."

LOL!! Since I was in the room, I did stop him and help him start again with David. Although it would have been great to see how he connected the coat of many colors to fighting Goliath:)