When we discovered Chris' egg allergy baking treats got harder....
Cake mixes were out until we found an egg replacer at a health food store. Even then the cakes/cupcakes looked fine but then like crumbled into a million pieces soo easily! Very, very messy!
It was also hard for those wanting to include my kids in their own parties... many times I ended up making the cakes for others or for my kids' classes (which I was GLAD to do so that my kids could enjoy cake with their friends)!
A friend called last week with an egg-free cake recipe using a cake mix!!
I was very DOUBTFUL it would work considering it was only 2 ingredients.... the cake mix and a 12oz can of soda
!
She assured me that the recipe called only for cake mix and any non-diet can of soda.
We tried it! First choosing a cake that was milk-free and then some soda:)
The reaction between the soda and mix was awesome.... the kids really got a kick out of watching the two react and fizz!
After baking according to the cake instructions, we had some pretty little cupcakes! They smelled delicious and made us crave lunch a little earlier so we could enjoy them:)
Since we ate them before they were fully cooled, some did have bottom pieces that came off. But they didn't fall into a million pieces while the kids at them.... which was great since our house was full of kids that afternoon;)
I did notice that the cupcakes held together a lot more after they were completely cooled. WE even stored leftovers in a ziplock bag and didn't have fall apart!
We found some milk-free store bought icing! And we were sooo excited to have such a SIMPLE recipe to make cakes/cupcakes for us!
Best of all was that they were enjoyed by the kids!!!!
And yes, I haven't taken the time to count the extra calories or sugar content of the cake. I'm sure it's very high:) But when you're limited in food choices by food allergies, you enjoy what you can when you can:)
Check out more Works for Me Wednesday at We Are That Family!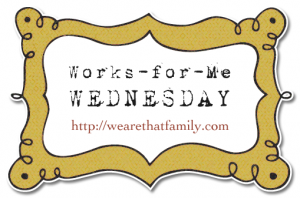 UPDATED: I used a Carrot Cake mix this evening.... totally crumbly! Grrr.... so maybe it needs to be a little "under-cooked" and totally cooled before cutting. And the under-cooking is fine since there are no raw ingredients:)
Now if I could just WAIT to let it cool:)