blah...
right now that is what I feel often in the "quiet moments"... the moments when I have seconds to ponder where I am, what I am doing and what I'd like to be doing.... both physically, mentally, spiritually... with our future home plans, homeschooling, my walk with the Lord and getting ready for Christmas!
I
have
soo much to be thankful for... my husband who tries to be understanding, my busy, healthy and silly kids, a house that has provided for us for 7 yrs, an exciting moving plans that await us, Christmas coming, a part-time job from home starting in January... the list goes on...
I am blessed
.
So why then do I feel soo
unsettled
.... sooo blah... what is stealing the JOY that I want soo much to have more of??
I am not sure.
I wished I knew ;(
Until I find what it is, I follow what I know to be true and what I know needs to be done...
feeding, praying, cleaning, teaching, hugging, reading, singing ...
and giving thanks
It seems when I take the time to be obedient & thankful and seek Christ & the joy He offers... all the extra "stuff" looses importance and has less of a hold on me.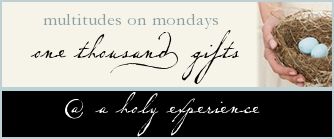 323. twinkling Christmas lights
324. children asking for
almost nothing
for Christmas
325. furry friends that bring giggles
326. boys looking for a meal
327. encouraging visit from sweet sister in Christ
328. reminder that the law leads us to Christ
329. warm scarves
330. late night coupon codes
331. used gift cards for Christmas shopping
332. excitement over Daddy's old cars
333. warm PJs
334. a vacuumed floor :)
335. sweet God moments... reminders that He cares for the small things, too
336.
Jesse Tree
devotions and hand colored ornaments
"When we lay the soil of our hard lives open to the rain of grace and let joy penetrate our cracked and dry places, let joy soak into our broken skin and deep crevices, life grows. How can this not be the best thing for the world? For us?"
― Ann Voskamp, One Thousand Gifts: A Dare to Live Fully Right Where You Are