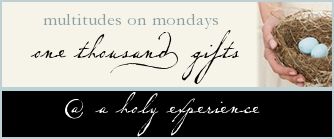 During a sweet conversation last week, we talked about things that encourage us...
as mothers,
as teachers,
as wives,
but most importantly followers of Christ:)
And I shared with my friends, how encouraged and refreshed I am when I make it a practice to read and soak in
Ann's writings (and pictures) at Holy Experience
. And when I take the time to join her in giving thanks for the awesome gifts God gives me weekly, daily, and usually every hour.
Regretfully soo many times I see the "gifts" as burdens.... another sock laying on the floor, another meal to prepare, another lesson to complete or sink to scrub out.
In the midst of racing through another (cold!!!!) week, I've taken a bit of time to pray for a right attitude and for a spirit of thankfulness....
in the little (big) things!
31. welcoming church family
32. Christmas hymns
33. God's own Son sent for us
34. dinner in a crockpot
35. flickering holiday lights
36. a healthy baby - now officially crawling
37. brothers reading together under the Christmas tree
38. sister snuggles & giggles
39. a quiet afternoon - reflections and naps;)
40. a week of schoolbooks ready to read (thanks to our awesome Children's librarian!)

Colossians 3:17
And whatever you do, whether in word or deed, do it all in the name of the Lord Jesus, giving thanks to God the Father through him.