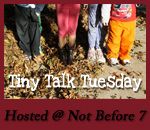 On Saturday we had only housekeeping/yardwork plans, so at breakfast I asked the kids if there was anything that they'd like to do.
There were a couple of comments about going to a park,etc! But then one of my angels suggested
,"Daddy, maybe you could keep us and Mommy can have some "time off", some time to relax."
And being silly I asked what I'd do during "some time to relax"?
Chris responded,
"You know relaxing things... hmm, like cooking and cleaning!"
LOL!!!
And just so you know we did have a relaxing day.
We all worked outside for MOST of the day.... it was just too pretty to stay inside (even if I was battling a nasty cold)! And Anna later told us that she had a great day playing outside with a friend, in the dirt and eventually in her bathing suit with water. Simple, nice day!
****************************************************************
One conversation with Chris he asked out-of-the-blue, "Mommy, who pushed you out?"
After some questioning, I can now translate Chris' question to mean "Who is your Mom?"