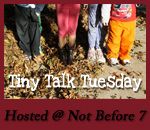 Last week while getting the kids settled at night after spending the days at various Disney parks, I'd ask the two middle kiddos what their favorite parts of the day were. One of the nights, Lydia told me her favorite part was going on "Water Fountain"....
better known as "Splash Mountain"!!

And this is what the fearless crew looked like after:)
**************************************************************
I"m sure all kids go through a stage when they refer to a computer as a "puter". I really thought Lydia had already been through this stage, but this week (and last) I had to hold in the childish giggles when I heard:
Mommy, are you using Miss Alicia's puuter??
Daddy, you put you puuter upside down.

Does this puuter have PBS kids on it?



***************************************************************
Monday I attempted a little bit of schooling (since we have another crazy busy week!), but we centered it around Thanksgiving and why we celebrate Thanksgiving. I pulled out some leftover Thanksgiving crafts from last year, a little Thanksgiving poem and read from Story of the World.
I wrapped up our little Thanksgiving lesson with the question, "When we eat turkey at Thanksgiving, what should we remember?"
Chris(5 yrs old on Thanksgiving):
"To cook the turkey!!....
[must have heard my sigh]
... Mom, you have to COOK the turkey before we can eat it!"
OK!! He's right! So I remind them about some of the history we had talked about. And really wanting to see if they had really gotten ANYTHING... I asked again. "What should we be "remembering" when we eat Thanksgiving dinner?"
Chris, again:
"To use our forks!!"
Yes, he's got the table manners down!!! LOL!!! But it was THEN that I dropped the question and we started making our "thankful" turkeys!!
Ohhhh .... and while I'd love to list what the two older ones wrote on each of the feathers... always interesting:) I will share that Chris copied "family" and then used another feather to write only the word "brother"! So sweet!